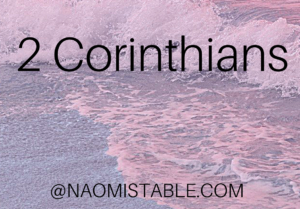 Welcome to our study in 2 Corinthians! Our Bible study teacher Beth Seifert will lead you through this incredible letter.
The apostle Paul wrote 2 Corinthians from Macedonia around a.d. 55/56. This was approximately a year after he wrote 1 Corinthians and a year before he wrote his letter to the Romans. This is the fourth letter he had written to the Corinthian church.
The central theme of 2 Corinthians is the relationship between suffering and the power of the Spirit in Paul's apostolic life, ministry, and message. Paul's opponents had questioned his motives and his personal courage. They argued that he had suffered too much to be a Spirit-filled apostle of the risen Christ. But Paul argues that his suffering is the means God uses to reveal His glory.
You may print these and use with your women's Bible study, small group or home study.
Teacher: Beth Seifert
Study Guides and Podcasts:
| | | | |
| --- | --- | --- | --- |
| ……………. | ……………..………………………………………….. . | ……………………………. | ………………. |
| First Day | Introduction! | Acts 19:1-41 | Listen |
| Lesson 1 | Enter In to Suffering | 2 Corinthians 1:1-11 | Listen |
| Lesson 2 | Sinful Pride and Righteous Humility | 2 Corinthians 1:12-2:4 | Listen |
| Lesson 3 | Be Reconciled Already | 2 Corinthians 2:5-11 | Listen |
| Lesson 4 | What Is That Smell? | 2 Corinthians 2:12-17 | Listen |
| Lesson 5 | Not Our Glory/Vicarious Glory | 2 Corinthians 3:1-18 | Listen |
| Lesson 6 | Let There Be (More) Light | 2 Corinthians 4:1-6 | Listen |
| Lesson 7 | Jars of Clay (Not The Band) | 2 Corinthians 4:7-18 | Listen |
| Lesson 8 | Temporary Tent vs Permanent Home | 2 Corinthians 5:1-10 | Listen |
| Lesson 9 | A True New Creation | 2 Corinthians 5:11-21 | Listen |
| Lesson 10 | True Life with God | 2 Corinthians 6:1-13 | Listen |
| Lesson 11 | Guard the Company You Keep | 2 Corinthians 6:14-7:1 | Listen |
| Lesson 12 | Doing Life in the Body of Christ | 2 Corinthians 7:2-16 | Listen |
| Lesson 13 | Giving to God's Glory | 2 Corinthians 8:1-15 | Listen |
| Lesson 14 | Trustworthy Men in Service to God | 2 Corinthians 8:16-24 | Listen |
| Lesson 15 | Giving for the Glory of God | 2 Corinthians 9:1-15 | Listen |
| Lesson 16 | Necessary Defense | 2 Corinthians 10:1-18 | Listen |
| Lesson 17 | False Gospel, False Apostles, False Spirits | 2 Corinthians 11:1-15 | Listen |
| Lesson 18 | Follow the Example of Christ | 2 Corinthians 11:16-33 | Listen |
| Lesson 19 | Revelations and Thorns | 2 Corinthians 12:1-10 | Listen |
| Lesson 20 | Sola Deo Gloria | 2 Corinthians 12:11-21 | Listen |
| Lesson 21 | Passing the Test | 2 Corinthians 13:1-14 | Listen |