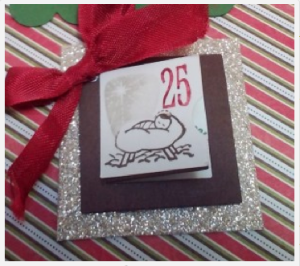 Want a great way to help your kids keep the true meaning of Christmas AND memorize Scripture? Forget the dollar store chocolate and cardboard! Naomi's Table invites you to try out our exclusive December Advent Calendar project that you can do with your children.
What is it?
It's a 25-day micro-devotional and fun project all in one. Starting December 1 you can reflect on the symbols of the true meaning of Christmas: The birth of Jesus!
Follow along with Bible study teacher Beth Seifert as we reveal each day a new Bible verse about celebrating Christ.
How can I make an Advent Calendar?
There are several ways, but here are two creative calendars you can use to create your own family Christmas tradition:

Beth has made this beautiful calendar with her own two boys to help treasure up Scripture into their hearts – and it works! Click on this photo to see the full view:
Can I do this project without making a calendar?
Yes! If you're not crafty or don't have time, simply gather the kids and follow along with us online as we do a daily December Devotional. Each day we've shared an audio Advent Devotional. Click on these dates for each mini podcast: