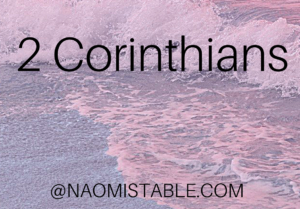 Our Bible study teacher Beth Seifert will lead you through this incredible letter, and we will discuss the lessons each week on our Naomi's Table Facebook Page.
Today you'll be reading 2 Corinthians 11:16-33. Ladies, what example are you following? Are you filling up with God daily, or with something else? What is your source of comfort? Where do you go when you are frightened? Where should your comfort be? As you spend time with God today, ask Him to help you to want to know Him better, to love His Word more, and to live a life that is glorifying to Him, following the example of His Son. Ask Him to help you to prioritize Him, and ask Him to help you to find all that you need in His Word, His promises, and the hope you have from Him. He alone is worthy, ladies. Seek Him.
Download the complete 2 Corinthians Study Notes. You may print these and use with your women's Bible study, small group or home study.