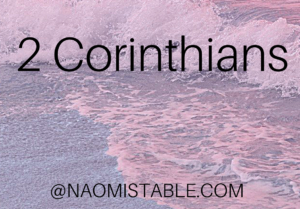 Our Bible study teacher Beth Seifert will lead you through this incredible letter, and we will discuss the lessons each week on our Naomi's Table Facebook Page.
Today you'll be reading 2 Corinthians 7:2-16. Ladies, as you spend time with God today, consider your relationships with other believers. How are you doing at giving grace to your brothers and sisters? At encouraging them? At pointing them back to Scripture in a loving way?
Download the complete 2 Corinthians Study Notes. You may print these and use with your women's Bible study, small group or home study.