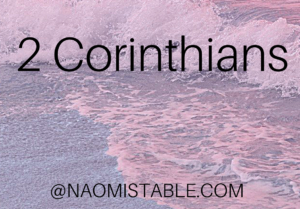 Our Bible study teacher Beth Seifert will lead you through this incredible letter, and we will discuss the lessons each week on our Naomi's Table Facebook Page.
Today you'll be reading 2 Corinthians 5:1-10. Ladies, as you spend time with God today, consider how you are living your life. Are you living a life here that is storing up treasure in heaven, or storing up treasure on earth? Is the foundation of your life truly on Christ? Are you continuing to build on that foundation with eternal building materials, or are you building with earthly materials that will all disappear?
Download the complete 2 Corinthians Study Notes. You may print these and use with your women's Bible study, small group or home study.