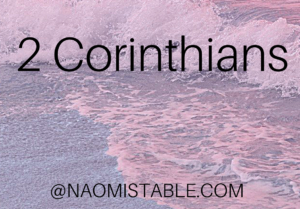 Our Bible study teacher Beth Seifert will lead you through this incredible letter, and we will discuss the lessons each week on our Naomi's Table Facebook Page.
As you spend time with God today, consider ways in which you can enter in to the suffering of other believers, and ways in which others can enter in to your suffering. Prayer is always an amazing option, but what practical ways can you enter in or invite others to enter in with you?
Download the complete 2 Corinthians Study Notes. You may print these and use with your women's Bible study, small group or home study.