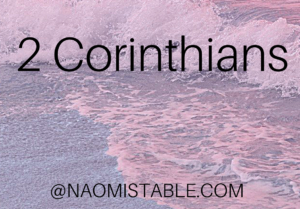 Our Bible study teacher Beth Seifert will lead you through this incredible letter, and we will discuss the lessons each week on our Naomi's Table Facebook Page.
Today you'll be reading 2 Corinthians 3:1-18. Ladies, as you spend time with God today, remember that it is He who changes your very heart and affections, who makes you love Him and who draws you to Him, to love His laws and be able to obey them. Ask God to help you to love Him more and more each day, to love His Word and to learn to trust Him more every single day.
Download the complete 2 Corinthians Study Notes. You may print these and use with your women's Bible study, small group or home study.