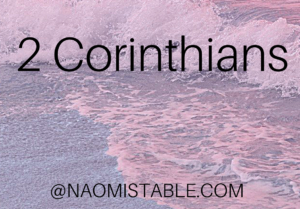 Welcome to our study in 2 Corinthians! Our Bible study teacher Beth Seifert will lead you through this incredible letter, and we will discuss the lessons each week on our Naomi's Table Facebook Page.
For today, in preparation to read 2 Corinthians, read Acts 19:1-41. The events recorded here in Acts occurred while Paul was in Ephesus, writing the first letter that we have to the church in Corinth.
Read Acts 20:1-2. These events were occurring while Paul sent Titus ahead with the letter to the Corinthians and Paul took the longer, over land route to get to Corinth.
Read Acts 20:2-3. The visit that Paul promises to make to Corinth is mentioned here in Acts, and when Paul leaves Corinth this time, he has the collection for Jerusalem that he references in this letter.
Spend some time in prayer today preparing for studying 2 Corinthians. Ask God to help prepare your heart to learn more about Him and what He expects of His people in His word as you study this book, and ask Him to help you to dig into this book and not just to allow yourself to be spoon fed. Ask Him to help make His word come alive to you as we go through this study.
Download the complete 2 Corinthians Study Notes. You may print these and use with your women's Bible study, small group or home study.