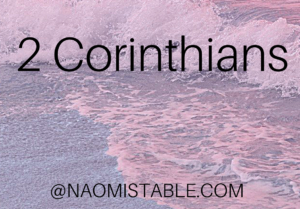 Our Bible study teacher Beth Seifert will lead you through this incredible letter, and we will discuss the lessons each week on our Naomi's Table Facebook Page.
Today you'll be reading 2 Corinthians 12:1-10. Ladies, as you spend time with God today, consider where your hope truly is. Are you living a life that shows God's economy or the world's? Are you looking for that next experience in order to make much of yourself, or are you looking to God's Word and to the application of His Word in your life to make much of HIM? Where is your focus at? Ask God to help you to learn, as Paul had to, to be content in all circumstances, and, more than that, to give thanks to God no matter the circumstances you are in. Praise God for giving you what is of immeasurable value: His Son and your salvation through Him. God is good, and He is always faithful ladies. Trust Him.
Download the complete 2 Corinthians Study Notes. You may print these and use with your women's Bible study, small group or home study.