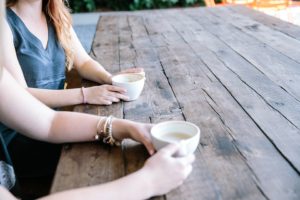 Naomi's Table is a site founded by Amy Spreeman in 2013 as a Bible study resource for women who are earnestly abiding in Jesus Christ through His Word.

Here at the Table, you are invited to peruse our Bible studies and use them for yourself or with a group to learn at the feet of our magnificent Savior, Jesus Christ. We study His Word and learn about the often confusing roles the world tells us we need to take on, and compare those pressures with what the Bible says about Godly women and discipleship. Since 2014, most of our Bible studies are taught by Beth Seifert. You can learn more about Beth here.

It is through Jesus alone that we are undeservedly saved! 
Once we become born again by God's Spirit, He begins a sanctifying work in our lives leading to holiness and righteous living, to be fulfilled when we enter eternal life with God. "Without holiness, no one will see the Lord" (Hebrews 12:14). Only being born again in the Holy Spirit can make us holy—our human efforts will always fall  short. We will never be perfect in this lifetime, but we are to seek perfection by the power of The Holy Spirit.
As women of God, let us bring the greatest glory, honor and praise to the Lord God Almighty:
     By bringing each other to the feet of Jesus to learn from Him through His inerrant Word.
     By encouraging and equipping sisters to be true disciples of Jesus Christ.
     By growing deeper in our relationship with our Lord and Savior.
     By desiring holiness, and pursuing His righteousness.
     By reaching out to those who do not know Jesus with the hope of the full Gospel message that their hearts may be softened and receptive to His Grace.