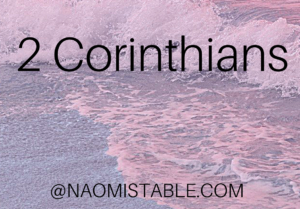 Our Bible study teacher Beth Seifert will lead you through this incredible letter, and we will discuss the lessons each week on our Naomi's Table Facebook Page.
Today you'll be reading 2 Corinthians 4:1-6. Ladies, as you spend time with God today, consider those whom you know (and love) who are outside of Christ. Ask God to help you to interact with them with grace and truth, giving an answer for the hope you have in Christ. Remember that you are not the one who saves them, but God does. Point them to Christ, encourage them to study it for themselves so they are not led astray by false teaching.
Download the complete 2 Corinthians Study Notes. You may print these and use with your women's Bible study, small group or home study.