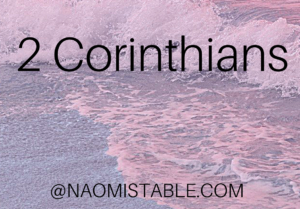 Our Bible study teacher Beth Seifert will lead you through this incredible letter, and we will discuss the lessons each week on our Naomi's Table Facebook Page.
Today you'll be reading 2 Corinthians 10:1-18. Ladies, as you spend time with God today, is there something that you are struggling to submit to that you need to set aside? Is there some idol or stronghold that is keeping you focused on yourself instead of on God? Are you striving to boast only in God, or in yourself? Are you working for your own accolades or for God's glory? Where is your confidence? In the uncertainties of this life, as health, wealth and everything else are so fleeting, are you trusting in God to provide what you need, or are you trusting in your stock portfolio and your vitamins to keep you secure? Spend some time in Psalms, reminding yourself of who God truly is, and His faithfulness, and rest in Him alone for all that you need.
Download the complete 2 Corinthians Study Notes. You may print these and use with your women's Bible study, small group or home study.