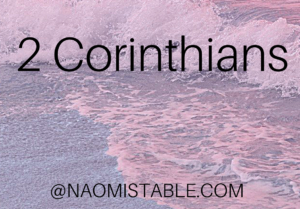 Our Bible study teacher Beth Seifert will lead you through this incredible letter, and we will discuss the lessons each week on our Naomi's Table Facebook Page.
Today you'll be reading 2 Corinthians 2:12-17. The world is watching, ladies. The world is watching to see how we, as Christians, react to the stress of this life and to opposition. We won't do everything perfectly, but we should be the first to repent when we sin, knowing that we have been brought from death to life through the power of Christ on the cross. As you spend time with God today, consider what your everyday life and relationships say about your Savior. Are you quick to repent? Are you, as Romans 12 says, living at peace with everyone (so far as it is up to you)? Consider what kind of a witness you are for your Savior and, if necessary, repent of bringing shame onto His name. Ask Him to help you, daily, to live in a manner that brings Him glory.
Download the complete 2 Corinthians Study Notes. You may print these and use with your women's Bible study, small group or home study.