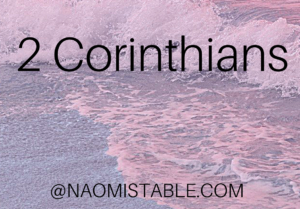 Our Bible study teacher Beth Seifert will lead you through this incredible letter, and we will discuss the lessons each week on our Naomi's Table Facebook Page.
Today you'll be reading 2 Corinthians 13:1-14. Ladies, take heart! Your Savior is interceding on your behalf to the Father; and He has been praying for you since before you were born! Praise God that He has given you His Word that you may know that you are His. Thank Him for the grace He shows to us daily, for how He equips us to pass the ultimate test. Everything we need for life and godliness is found in Him; He is the true treasure! As you spend time with God today, thank Him for His Word, for the warnings that are within His Word, but also for the hope and assurance and comfort that is found in His Word. We have the true Gospel at our fingertips and that's a gift, ladies. May God continue to sanctify us and to strengthen us each and every day for His glory and for our good.
Download the complete 2 Corinthians Study Notes. You may print these and use with your women's Bible study, small group or home study.