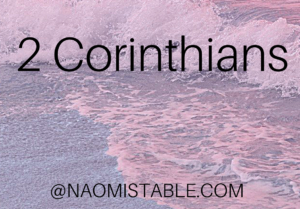 Our Bible study teacher Beth Seifert will lead you through this incredible letter, and we will discuss the lessons each week on our Naomi's Table Facebook Page.
Today you'll be reading 2 Corinthians 5:11-21. Ladies, if you aren't sure if you are a new creation today, cry out to God for His mercy. Ask Him to show you mercy and grant you true repentance and ask Him to change your desires and make you love Him more and more. Ask Him to help you to love His Word, to hate your sin and to love HIM most of all, and ask Him to help you to confirm your calling and election in Him.
Repent of anything that is in the way of your relationship with God, and trust that, when you truly repent, God is faithful to forgive and reconcile you to Himself. Praise God today for the gift of Jesus who took on OUR sin so that we might have His righteousness. God is so merciful to us, ladies; praise Him for His mercy today!
Download the complete 2 Corinthians Study Notes. You may print these and use with your women's Bible study, small group or home study.