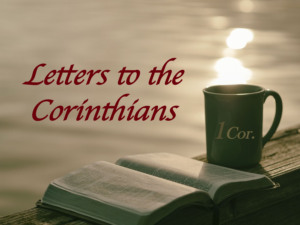 1 Corinthians, written in approximately 55 AD, was not the first letter Paul had written to the church of Corinth. It was one of three. But God chose to preserve two of Paul's letters to Corinth for the Church today.
The church at Corinth was was corroded with sin on a variety of fronts, so Paul provided an important model for how the church should handle the problem of sin in its midst. Rather than turn a blind eye toward relational division and all kinds of immorality, he addressed the problems head on.
Many of the problems and questions the Corinthian church was dealing with are still present in the church today. Churches today still struggle with divisions, with immorality, and with the use of spiritual gifts. The Book of 1 Corinthians very well could have been written to the church today and we would do well to heed Paul's warnings and apply them to ourselves. Despite all the rebukes and corrections, 1 Corinthians brings our focus back to where it should be—on Christ.
Ladies, you can use these lessons and study guides in your personal study, with the women in your church or small group, or as a one-on-one discipleship tool.
Teacher: Beth Seifert                                                                                                                   More Bible Studies!
1 Corinthians Study Guides and Podcasts:
| | | | |
| --- | --- | --- | --- |
| ……………. | ……………………………………………. . | …………………………. | ……………………….. |
| Introduction | 1 Corinthians Overview | | Listen – Notes |
| Lesson 1 | An Auspicious Beginning | 1 Corinthians 1:1-9 | Listen – Notes |
| Lesson 2 | Ungodly Divisions | 1 Corinthians 1:10-17 | Listen – Notes |
| Lesson 3 | True Wisdom and Righteous Boasting | 1 Corinthians 1:17-31 | Listen – Notes |
| Lesson 4 | Know nothing except… | 1 Corinthians 2:1-6 | Listen – Notes |
| Lesson 5 | Spiritual Discernment | 1 Corinthians 2:6-16 | Listen – Notes |
| Lesson 6 | Time for Solid Food | 1 Corinthians 3:1-9 | Listen – Notes |
| Lesson 7 | Follow the Builder's Plans | 1 Corinthians 3:10-23 | Listen – Notes |
| Lesson 8 | Whom Are You Seeking to Please? | 1 Corinthians 4:1-21 | Listen – Notes |
| Lesson 9 | Seriously?! | 1 Corinthians 5:1-13 | Listen – Notes |
| Lesson 10 | Have You Been Washed? | 1 Corinthians 6:1-11 | Listen – Notes |
| Lesson 11 | You Are NOT Your Own | 1 Corinthians 6:12-20 | Listen – Notes |
| Lesson 12 | The Two Become One Flesh | 1 Corinthians 7:1-5 | Listen – Notes |
| Lesson 13 | Complicated Relationships | 1 Corinthians 7:6-16 | Listen – Notes |
| Lesson 14 | Bloom Where God Has Planted You | 1 Corinthians 7:17-24 | Listen – Notes |
| Lesson 15 | Further Instructions for Marriage & Singlehood | 1 Corinthians 7:25-40 | Listen – Notes |
| Lesson 16 | Inconsiderate Freedom | 1 Corinthians 8:1-13 | Listen – Notes |
| Lesson 17 | The "Right"-eous Principle | 1 Corinthians 9:1-14 | Listen – Notes |
| Lesson 18 | Run the Race, Don't Trip the Other Runners | 1 Corinthians 9:13-27 | Listen – Notes |
| Lesson 19 | Learn From Their Mistakes | 1 Corinthians 10:1-13 | Listen – Notes |
| Lesson 20 | For the Glory of God…not Your Glory | 1 Corinthians 10:14-33 | Listen – Notes |
| Lesson 21 | God Ordained Authority | 1 Corinthians 11:2-16 | Listen – Notes |
| Lesson 22 | Revere the Lord's Supper | 1 Corinthians 11:17-34 | Listen – Notes |
| Lesson 23 | The HOLY SPIRIT'S Gifts (Not Yours) | 1 Corinthians 12:1-11 | Listen – Notes |
| Lesson 24 | The Myth of Lone Ranger Christians | 1 Corinthians 12:12-31 | Listen – Notes |
| Lesson 25 | Not That Kind of Love | 1 Corinthians 13:1-13 | Listen – Notes |
| Lesson 26 | Tongues, the Inferior Gift | 1 Corinthians 14:1-25 | Listen – Notes |
| Lesson 27 | He is Not A God of Confusion | 1 Corinthians 14:26-40 | Listen – Notes |
| Lesson 28 | Foundational Truths | 1 Corinthians 15:1-11 | Listen – Notes |
| Lesson 29 | The Resurrection MATTERS | 1 Corinthians 15:12-34 | Listen – Notes |
| Lesson 30 | Raised Imperishable | 1 Corinthians 15:25-49 | Listen – Notes |
| Lesson 31 | Rejoice in His Victory | 1 Corinthians 15:50-58 | Listen – Notes |
| Lesson 32 | Parting Thoughts | 1 Corinthians 16:1-24 | Listen – Notes |