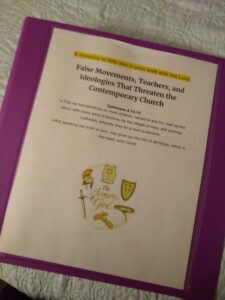 When a friend of mine told me how she is using her gift of discernment and passion for research to serve her church – with her pastor's encouragement and blessing – I could not wait to share her story!
Katie initially contacted me to ask permission to use my research materials as part of a notebook binder she is compiling on dangerous movements infecting the modern church. The book will be available in her church library for anyone to peruse. I could not be more excited for her and for her pastor, who is faithfully shepherding and protecting his precious flock. Here is her story:
"My husband and I are very grateful to have a wonderful pastor who guards his sheep with the Word of God.
I recently read an article by Michelle Lesley about discernment being loving and gave it to my pastor to read. I approached our pastor humbly asking him if I could put together a binder of false teaching, teachers, and ideologies that threaten the church.  This was his response:
.
I just read your email on my phone. My initial reaction to this is positive. I think it would be beneficial. Let me give it some thought and prayer and talk with the deacons about it. My only caution would be to always vet the sources and be sure to quote all sources. I know many years ago I made a statement in a sermon that I thought I had gotten from a reliable source. An individual approached me later who had more knowledge on the topic and suggested I go to a different source and, sure enough, I had it wrong. Since then, I not only make sure that I have a source but make sure to the best of my ability that it is a reliable source.

Having a folder in the library with this information would give people the opportunity two independently go in whenever they have time and do a quicker research of the individual. And, like you said, since you enjoy doing the research oh, this would be a great ministry for you to be involved in. Also, it is a gentle way to show people some proof that they may not be aware of.
Our pastor is the only pastor we have and I know he does not have time to do research all of the bad theology out there.  I also spoke with my husband about it and he agreed that it's a good idea, this way I have a lot of accountability.  The resource as stated above will be in our library.  There are a lot of women in our church who don't do their research and follow false teachers.  I'm praying this will be a helpful source to our church and we can keep the wolves out."
I join you in that prayer, Katie, and I am sure you've inspired other readers to humbly approach their own pastors. What do you think, ladies? Could this work in your church? Comments are open.