This guest post by Kim Wine was published on Michelle Lesley's excellent blog!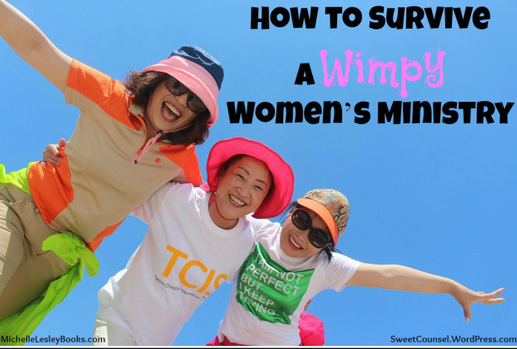 Vanessa was excited to attend the weeknight women's ministry event. A new friend had recently invited her to their annual women's conference. Vanessa's own church was extremely small and had no women's ministry, so she was excited to attend an event that would edify her and train her in righteousness through the Word of God. She walked in with joyful expectation of tools to help her in her spiritual growth.
Upon entering the event, Vanessa was given her itinerary. The day was filled with craft projects, networking activities, and tips on how to create a more hospitable home environment. Vanessa maintained an optimistic attitude, still looking forward to the keynote speaker. Unfortunately, Vanessa left weeping, feeling discouraged and disappointed and even emptier than she felt when she walked in the event. The speaker delivered a highly motivating speech that "empowered" women and made them feel loved and accepted and "at peace" with God and each other…. And it was woefully devoid of Scripture, the gospel, or any mention of sin or repentance.
Maybe you're like Vanessa and have experienced something similar? Have you walked away from women's events at churches and wondered "what on earth just happened? Wasn't I supposed to know more about my Lord at the end?" How do we change the culture of women's ministry in today's churches? I believe the solution lies in the discernment developed in the lives of both the ministry leader and the participant. Both participants and leaders must have a discerning mind and heart about what they're allowing to be taught.
The Participant
Let's assume you're just like Vanessa. You don't feel led by the Lord to be a women's ministry leader, but you're desperately hungry for more from your women's ministry. What do you do to encourage your leader to be discerning in the teaching choices she makes?
1. Become discerning yourself. It is your responsibility to be knowledgeable about the Word of God. No one else is responsible to spoon-feed you. (1 John 2:27) You have the Holy Spirit indwelling you to remind you of the things you have learned (John 14:26), but you must learn them first in order to recall them.
2. Be an active participant. (Hebrews 10:23-25) You may not like what's going on in your women's ministry. Tea parties and testimonies may be the last thing you want to spend your time doing. But as long as the teaching you are receiving isn't heretical (of course you shouldn't stick around for false teaching), being active is the only way to develop a good relationship with your ministry leader. Ladies, I realize this is a hard one. I don't like wasting my time and I'm sure you don't either. But developing relationships takes your presence. It is not a waste of time to form a relationship that could give you future opportunity to disciple another woman to more depth and discernment.
3. Become a trusted friend of your women's ministry leader. Take her to coffee and get to know her with no agenda. Be a support for her. Offer to help with events. You just might find out you both have the same heart for depth and discernment and you're striving for the same goals. Maybe she's working toward the same things you long for as well.
4. Be patient and consistent. It takes a while to turn a whole ship around. Give her time and space to work toward something new. Depth and discernment could be something the women in your church are unfamiliar with. As long as you're seeing growth – even if it's incremental – stay plugged in and be her biggest cheerleader. Show her that you can be trusted. And gently, as the Lord opens doors in your relationship with your leader, make good suggestions about teachers, authors, and materials.
The Women's Ministry Leader
If you have been given the task of leading women, you have been given a very critical role in the life of your church. Women are very easily deceived by false teaching. (2 Timothy 3:6-7) Your job is to be a second line of defense after your pastor to protect these women. Don't take it lightly. What can you do to train your women to be discerning?
1. Bring in great speakers. Only allow speakers who saturate your women in the Truth of the Word of God. Do not allow women to hear false teaching. Test your speakers against the Word of God. (1 John 4:1) Testimonies are empowering and emotional. But testimonies can never edify like the pure milk of the Word of God. (1 Peter 2:2) Make sure your speaker is faithful to the text.
2. Spend more time on Scripture than you do on activities. Make the Word of God the central part of your ministry. Women should be able to come to any event scheduled and know that whatever the activity is, it will be secondary to the Word of God. Teach your women to crave the Word by making it the main course of every event. Always. Be consistent with this and you will start to see your women change from the inside out
3. Schedule and attend sound Bible studies within your church. Leaders, if you want your women to learn to be discerning, you must offer in-depth Bible study. You may not be able to commit to being the teacher, but you can assign a godly, mature woman to teach the study. Maybe someone like Vanessa? If you are not the teacher, make it a priority to attend at least one of the women's studies within your church. You must lead by example. The women in your church will take their cues about what's important from two people – their pastor's wife, and the women's ministry leader. Be a great example so that you can echo Paul when he told others to follow his example. (1 Corinthians 11:1, 1 Corinthians 4:16, Philippians 3:17)
4. Get involved in the women's lives. In order to discern where your women are spiritually, you must know them well. Make yourself available for the ladies. Be approachable. If you see someone struggling, ask her how you can pray for her. Just be there. You are not going to know what to offer your women if you don't really know your women. Acts 2:43-47 gives us a beautiful picture of the church simply "doing life" together. Emulate that in your women's ministry.
Whether you are a participant or a leader, you can make a huge difference in the women's ministry of your church. Be consistent. Be faithful. And, by all means, be discerning. Then teach others to replicate the pattern.
I know there are many godly women reading this post who have been "in the trenches" of women's ministry leadership for many years. Please comment any other insight you have that would help edify our women's ministries.
---