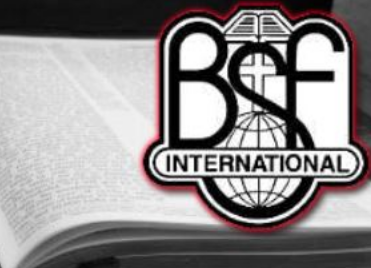 Bible Study Fellowship International (BSF), appears to be shifting toward a new paradigm once again. A friend of mine named Elizabeth has allowed me to share her open letter to her BSF leadership, after attending a leader training for the 2019-2020 season. The first 45 minnutues or so of that training session was on vision casting, which is a method developed in the seeker-friendly megachurch model to get the audience to align with the direction of leadership (rather than the truths of the Bible). Elizabeth was told that the vision casting method was being pushed "top down from leadership headquarters." Vision casting is not a Biblical practice, but a dangerous practice that turns a pastor into a false prophet the result of which will lead a congregation away from Jesus Christ's mission and vision for the church.
This is not the first instance of BSF's slow spiral into unbiblical teaching; rather just the latest example of it. Please read, BSF Leader resigns; warns members about 2018 Study, and BSF, Jesus Calling and a plea from the heart.
Thankfully, Elizabeth is not just running for the door. Instead, she is doing the right thing by sharing her concerns with her immediate leadership, and forwarding those concerns – shrouded in Scripture – to higher authorities at BSF. At the bottom of this letter I've added additional resources.
September 27, 2019

Thank you for agreeing to speak with me after leader training Tuesday. I appreciate being able to express my concern to you over the Bible Study Fellowship (BSF) use of the phrase and the process of "vision casting."  As I mentioned to you, I have heard of this practice and I am aware that it is popular, as you stated, in the business world. I am also aware that it is a phrase and practice utilized in many churches, as well as parachurch organizations here in the United States and around the world. So, thank you for your time in regard to my concern and in your willingness to consider these links I'm sending you.  I failed to mention in our brief conversation that I had engaged in a conversation with (xx) about this and some other similar concerns arising out of the leadership summit in August. As such, and because she is the Training Leader here, I'll copy her on this email.

One of the ways you answered me, when I said that vision casting is not biblical, was by quoting a Proverb, "where there is no vision the people perish."  This is from Proverbs 29:18, and is the "go to" scripture verse for those who teach and promulgate vision casting. However, it is taken out of context to support vision casting.  In its entirety, Proverbs 29:18 says "Where there is no prophetic vision, the people cast off restraint, but blessed is he who keeps the law." (ESV)   Comparatively, this verse is also translated thus:

"when people do not accept divine guidance, they run wild. But whoever obeys the law is joyful." (NLT)

"without revelation people run wild, but one who follows divine instruction will be happy. (CSB)"

"Where there is no revelation, the people cast off restraint; but happy is he who keeps the law."   (NKJV)

"Where there is no revelation, people cast off restraint; but blessed is the one who hears wisdom's instruction." (NIV)

We know from Psalms that the law and His Word, scriptures, commandments, precepts, statutes, testimonies all refer to the Most High God and His Word that is imparted to us in the Bible.  Hebrews 1:1-2 instructs us that:

1 ¶ Long ago, at many times and in many ways, God spoke to our fathers by the prophets,

2 but in these last days he has spoken to us by his Son, whom he appointed the heir of all things, through whom also he created the world.(ESV)

Scripture further tells us in John 1:1-3 that Jesus is the Word.  And we have the written Word imparted to us through the power of the Holy Spirit.

2 Timothy 3:16 (ESV)

All Scripture is breathed out by God and profitable for teaching, for reproof, for correction, and for training in righteousness.

I propose that it is contrary to scripture when claiming that casting vision is an innocent activity.  Further, because it is popular in the world or even that many churches practice vision casting does not justify the practice for Bible believing Christians.

Born again believers have the benefit of knowing that "God will supply every need according to his riches in glory in Christ Jesus," according to Philippians 4:19 (ESV).   God give us wisdom "generously to all without reproach, as stated on James 1:5.  We need to ask in faith without doubting, "for the one who doubts is like a wave of the sea that is driven and tossed by the wind," from James 1:6 (ESV).

We must remember what Paul said, when he told us, "For I am not ashamed of the gospel, for it is the power of God for salvation to everyone who believes, to the Jew first and also to the Greek," from Romans 1:16 (ESV).

I quote these scriptures to you because the Bible is replete with the Lord's instruction to keep His commandments and to love the Lord our God with all our soul, our might and our strength.  He has revealed His will to us within the pages of scripture and we can know what the Lord requires of us as we study His Word. We do not need worldly ways to buttress us in our faith or the BSF.

At the following link, you will find three excellent audio sources on the topic of vision casting.   https://www.letterofmarque.us/2012/07/is-vision-casting-biblical.html

Below is a 30 minute clip about vision casting. It is a part of a three hour video on the Emergent church and church growth movements, produced by Elliott Nesch, a gifted young man of God who exhorts us to test the spirits. Both videos are very valuable, well done, and worth your time, but I offer you the shorter clip because it is the concentrated portion of the longer video:
As for the third link I'm sending, this is from a man by the name of Bob Dewaay. He did a great deal of research into various topics of concern in the church today and one of them touches on casting of visions. https://cicministry.org/commentary/issue88.htm

You are a student of the Word of God.  As such, you know we are to be good Bereans. We are to test and see if what we are taught is in keeping with scripture. You know that the wisdom of man is mere foolishness. You know that the Word of God is living and powerful and sharper than any two edged sword. You know the Word divides asunder both joint and narrow and is a discerner of the thoughts and intentions of the heart. I ask you this: if you were practicing, believing, embracing, or teaching others something that is contrary to the Word of God, would you want to know it? Would you release it, repent of it, and renounce it?  I challenge you to take these links and prayerfully consider the information within them to see if what is spoken of here would have you biblically retain vision casting or discard it. Please consider the concerns I have expressed and let us talk again after you have availed yourself of the information in the above links.

Remember that just because an idea is wildly popular and widespread does not mean it is truth.

Matthew 7:13-14

Thank you for your consideration
For more studying: