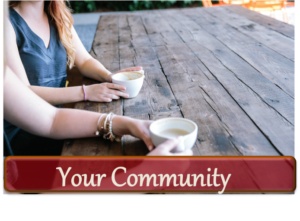 Note: Google is eliminating its Google+ platform in April. Our Google+ group will soon be transitioning to a private forum. During the month of February, we will not be bringing new members online. Please check back in March.

You're invited to connect with women from around the world who are seeking and sharing biblical wisdom in our everyday lives.
Our community group, At the Table, is a private, secure online gathering for women who are committed to talking about Scripture and praying for one another as we study the Word.
To join our private community, we require potential members to fill out a questionnaire about their conversion experience, why they want to join the Table and how they are growing in holiness. We understand that you may feel uncomfortable sharing personal information. This screening is to protect the safety of all members.  We assure you that your response will be kept in strictest confidence by our Forum Moderators and will not be shared with other group members.
You can fill out the application here: