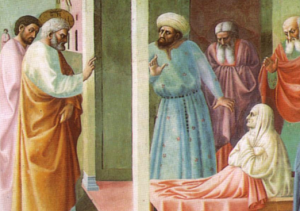 What can we learn about Dorcas, or Tabitha, from Acts Chapter 9?  This account tells us that she spends her time doing good works and acts of charity. She is therefore an admired member of the community, esteemed by all. Her story is one of servanthood, but also an incredible miracle via the Apostle Peter, as she is raised from death to life.
In Segment 2, we're studying the Book of Genesis.  Join us as teacher Connie Stampfl takes us verse-by-verse through this foundational book. Be sure to download the separate podcast and the notes in our Bible study tab on the menu.
If you'd like to join the table and connect with us, check out our FaceBook page! You can also send us an email at Connect@Naomistable.com. And ladies, if you head over to our website, you'll find information on how to join women around the world at our Google+ Community Page, where we are making friends and talking about what the Bible has to say about the topics we cover here at the Table.
Podcast: Play in new window | Download (Duration: 48:54 — 22.4MB)