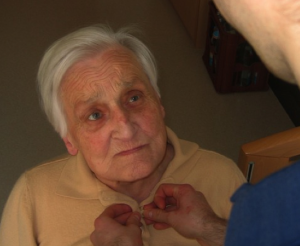 We know that we are not to have a spirit of fear, and there are all sorts of verses in the bible about fear. But there are  fears that seem to eclipse many others, and that is the fear of pain, and death. We all face death, and most of us have gone through the process with friends and loved ones.   We've invited a hospice nurse to talk with us about the difference between fearing the process, and fearing eternity.
Few of us want to talk about what happens when life on this Earth winds down. We are all appointed to die once and then spend eternity with God – or apart from Him. Have you ever cared for a friend or family member at the end of his or her life? We've invited Heidi Browne to join us at the table. Heidi Browne has been a hospice care nurse who has been caring for the dying and their families for more than a decade, and shares her experiences and theirs in the face of death.
Also in Segment 1 is our December Advent calendar project with Beth Seifert, which you can create and do with your kids to help them learn to treasure not only the season, but Scripture! Just look for our daily craft instructions and devotional under our December Advent tab.
In Segment 2, pull up a chair for our Bible study as dive back into ROMANS with our Bible study teacher Beth Seifert.  Be sure to download the notes in our Bible study tab on the menu.
If you'd like to join the table and connect with us, check out our FaceBook page! You can also send us an email at Connect@Naomistable.com. And ladies, if you head over to our website, you'll find information on how to join women around the world at our Google+ Community Page, where we are making friends and talking about what the Bible has to say about the topics we cover here at the Table.
Podcast: Play in new window | Download (Duration: 50:29 — 23.1MB)