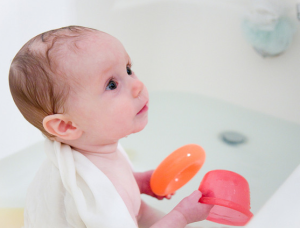 Many Christian women believe that God will love them more if only they keep their lives clean and pure, following a holy life.  It's true that God does call us to holiness, but there are two problems with the premise of our own understanding:  1. God could not love us more than He already does. In fact the Bible says that He loved us while we still hated Him – and send His Son to die for our sins.  2. It is impossible for us to be perfect as He is perfect, and that's why He had to die for us. It is His Holy Spirit that makes us Holy as we abide in Him. On our own merit, our good works and deeds are but filthy rags to Him. So be encouraged and thankful that our Jesus has done this for us so that we can walk in holiness.
In Segment 2, pull up a chair for our Bible study in 1 and 2 Peter with our Bible study teacher Connie Stampfl.  Be sure to download the notes in our Bible study tab on the menu.
If you'd like to join the table and connect with us, check out our FaceBook page! You can also send us an email at Connect@Naomistable.com. And ladies, if you head over to our website, you'll find information on how to join women around the world at our Google+ Community Page, where we are making friends and talking about what the Bible has to say about the topics we cover here at the Table.
Podcast: Play in new window | Download (Duration: 52:11 — 20.9MB)