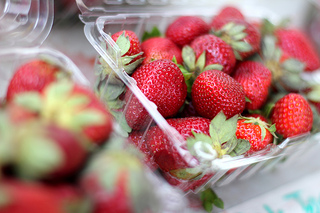 What in the world has happened to our food supply? Today we're taking a biblical look at how God's creation has been modified, sprayed and altered to look bigger, brighter and bug-free. But what is it doing to our bodies?
While we can't extend the number of our days (which God has determined!), we do need to take a look at the spike in health maladies these foods and drugs are doing to our temples. Our own Lori Williams is joining us today to share her own health issues and the radical change she and her husband have made to reclaim their health. Lori has written a blog post for us, titled, How Can I Glorify God With Healthy Eating?   Find more information about Lori's ministry, Falsified.
In Segment 2, pull up a chair for our Bible study in 1 and 2 Peter with our Bible study teacher Connie Stampfl.  Be sure to download the notes in our Bible study tab on the menu.
If you'd like to join the table and connect with us, check out our FaceBook page! You can also send us an email at Connect@Naomistable.com. And ladies, if you head over to our website, you'll find information on how to join women around the world at our Google+ Community Page, where we are making friends and talking about what the Bible has to say about the topics we cover here at the Table.
Podcast: Play in new window | Download (Duration: 54:44 — 21.9MB)