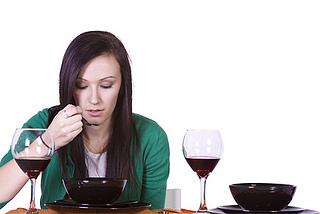 You've probably heard the saying, "In everything, moderation."  That's actually pretty good advice, and it's something the Apostle Paul instructs women through letters he wrote to early church leaders.   We've been talking about the Titus 2 woman this week, and we start with the Titus 2 man, because we women it says, are to do likewise:
But as for you, teach what accords with sound[a] doctrine. 2 Older men are to be sober-minded, dignified, self-controlled, sound in faith, in love, and in steadfastness.3 Older women likewise are to be reverent in behavior, not slanderers or

wine. They are to teach what is good, 4 and so train the young women to love their husbands and children, 5 to be self-controlled, pure, working at home, kind, and submissive to their own husbands, that the word of God may not be reviled. 6 Likewise, urge the younger men to be self-controlled. 7 Show yourself in all respects to be a model of good works, and in your teaching show integrity, dignity, 8 and sound speech that cannot be condemned, so that an opponent may be put to shame, having nothing evil to say about us. 9 Bondservants[b] are to be submissive to their own masters in everything; they are to be well-pleasing, not argumentative, 10 not pilfering, but showing all good faith, so that in everything they may adorn the doctrine of God our Savior.
In Segment 2, we're scooting up our chairs for our Bible study in I Samuel, with our Bible study teacher Beth Seifert. Be sure to download the notes in our Bible study tab on the menu. Tomorrow we will be introducing you to Samuel, a prophet whose life was incredibly significant!
If you'd like to join the table and connect with us, check out our FaceBook page! You can also send us an email at Connect@Naomistable.com. And ladies, if you head over to our website, you'll find information on how to join women around the world at our Google+ Community Page, where we are making friends and talking about what the Bible has to say about the topics we cover here at the Table.
Podcast: Play in new window | Download (Duration: 51:47 — 20.7MB)