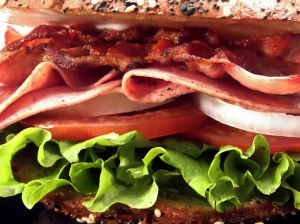 Ever feel like you are in the middle of two very significant seasons? You might be part of the "Sandwich generation," a generation of people who care for their aging parents while supporting their own children. According to the Pew Research Center, just over 1 of every 8 Americans aged 40 to 60 is both raising a child and caring for a parent, in addition to between 7 to 10 million adults caring for their aging parents from a long distance. For women who are God's children, this role takes on a significant emphasis on servanthood, as we reflect God's glory to those in our lives who need our care.
In Segment 2, we're studying the Book of Genesis.  Join us as teacher Connie Stampfl takes us verse-by-verse through this foundational book. Be sure to download the separate podcast and the notes in our Bible study tab on the menu.
If you'd like to join the table and connect with us, check out our FaceBook page! You can also send us an email at Connect@Naomistable.com. And ladies, if you head over to our website, you'll find information on how to join women around the world at our Google+ Community Page, where we are making friends and talking about what the Bible has to say about the topics we cover here at the Table.
Podcast: Play in new window | Download (Duration: 51:17 — 23.5MB)