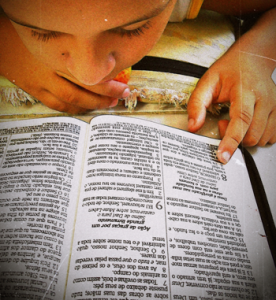 What do you believe and why do you  believe it? Can you put your explanation of the Gospel in a few succinct sentences?
We've invited a woman who will share with us why it's important to look at the entire Bible as God's authoritative Word. And one of the places many women tend to ignore as truth is the Book of Genesis and the creation account. Dr. Georgia Purdom from Answers in Genesis will be at the Table. Her annual Answers for Women conference will take place April 17–18, 2015 with the topic "Embrace: Compassionate Answers in a Fallen World." Check out the website for more information and to register (Remember: Spouses and children get free admission to the Creation Museum).
In Segment 2, pull up a chair for our Bible study as dive back into ROMANS with our Bible study teacher Beth Seifert.  Be sure to download the notes in our Bible study tab on the menu.
If you'd like to join the table and connect with us, check out our FaceBook page! You can also send us an email at Connect@Naomistable.com. And ladies, if you head over to our website, you'll find information on how to join women around the world at our Google+ Community Page, where we are making friends and talking about what the Bible has to say about the topics we cover here at the Table.
Podcast: Play in new window | Download (Duration: 54:23 — 24.9MB)