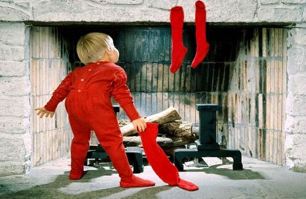 Christian parents are divided about Santa Claus. Some are okay with combining the celebration of Christ's incarnation with the fun of jolly ol' Saint Nick, while others prefer to skip Santa altogether.  What do you do with Santa?
Tuesday we meet a mom named Sara Wallace. She has taken the latter approach, and has penned an article about her reasons. You can check it out on her Gospel Centered Mom blog, under the title, What to do about Santa. Sara and her husband Dave are raising and homeschooling our four little boys in the backwoods of Idaho.  We think you'll really love her website. And I know we'll have Sara back to the Table often!
Also in Segment 1 is our December Advent calendar project with Beth Seifert, which you can create and do with your kids to help them learn to treasure not only the season, but Scripture! Just look for our daily craft instructions and devotional under our December Advent tab.
In Segment 2, pull up a chair for our Bible study as dive back into ROMANS with our Bible study teacher Beth Seifert.  Be sure to download the notes in our Bible study tab on the menu.
If you'd like to join the table and connect with us, check out our FaceBook page! You can also send us an email at Connect@Naomistable.com. And ladies, if you head over to our website, you'll find information on how to join women around the world at our Google+ Community Page, where we are making friends and talking about what the Bible has to say about the topics we cover here at the Table.
Podcast: Play in new window | Download (Duration: 49:07 — 22.5MB)