Is God doing a "new thing" in churches today? Is there a fresh outpouring of the Holy Spirit that causes people to laugh uncontrollably or faint and writhe? How can we tell the difference between a true move the Holy Spirit, and one of the many counterfeit, demonic "revivals" operating today?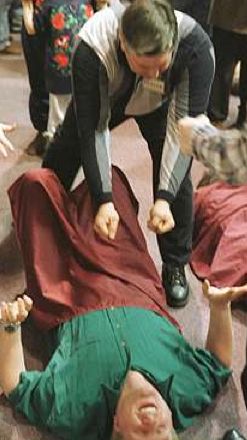 Today we're going to get a glimpse into a brand new edition of Caryl Matrisciana's Wide Is The Gate 3: The Emerging New Christianity, just launched this week. It is a double DVD that gives us the full scope of this supposed "new move of the Holy Spirit" coined as the New Apostolic Reformation (NAR). also known as Third Wave, 5-Fold, Manifest Sons of God, Latter Rain, Kingdom Now, Word Faith, Fresh Fire, and has many other names.
As many of our listeners know and have been praying about, Caryl has been slowly recovering from a tragic bicycle accident in September that left her severely injured. Please continue to pray for her recovery.
Also in Segment 1 is our December Advent calendar project with Beth Seifert, which you can create and do with your kids to help them learn to treasure not only the season, but Scripture! Just look for our daily craft instructions and devotional under our December Advent tab.
In Segment 2, pull up a chair for our Bible study as dive back into ROMANS with our Bible study teacher Beth Seifert.  Be sure to download the notes in our Bible study tab on the menu.
If you'd like to join the table and connect with us, check out our FaceBook page! You can also send us an email at Connect@Naomistable.com. And ladies, if you head over to our website, you'll find information on how to join women around the world at our Google+ Community Page, where we are making friends and talking about what the Bible has to say about the topics we cover here at the Table.
Related articles
Podcast: Play in new window | Download (Duration: 52:14 — 23.9MB)