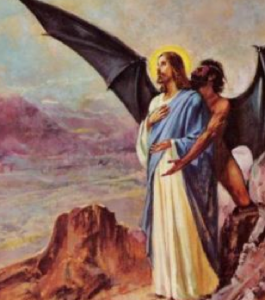 Then Jesus was led up by the Spirit into the wilderness to be tempted by the devil.  And after fasting forty days and forty nights, he was hungry.  And the tempter came and said to him, "If you are the Son of God, command these stones to become loaves of bread." But he answered, "It is written,
"'Man shall not live by bread alone,
    but by every word that comes from the mouth of God.'"
Then the devil took him to the holy city and set him on the pinnacle of the temple  and said to him, "If you are the Son of God, throw yourself down, for it is written,
"'He will command his angels concerning you,'
and
"'On their hands they will bear you up,
    lest you strike your foot against a stone.'"
Jesus said to him, "Again it is written, 'You shall not put the Lord your God to the test.'"  Again, the devil took him to a very high mountain and showed him all the kingdoms of the world and their glory.  And he said to him, "All these I will give you, if you will fall down and worship me."  Then Jesus said to him, "Be gone, Satan! For it is written,
"'You shall worship the Lord your God
    and him only shall you serve.'"
 Then the devil left him, and behold, angels came and were ministering to him.
In Segment 2, pull up a chair for our Bible study in Esther with our Bible study teacher Beth Seifert.  Be sure to download the notes in our Bible study tab on the menu.
If you'd like to join the table and connect with us, check out our FaceBook page! You can also send us an email at Connect@Naomistable.com. And ladies, if you head over to our website, you'll find information on how to join women around the world at our Google+ Community Page, where we are making friends and talking about what the Bible has to say about the topics we cover here at the Table.
Podcast: Play in new window | Download (Duration: 51:33 — 20.7MB)