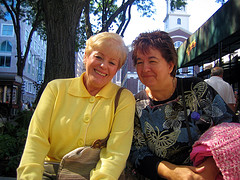 Moms. The older we get, the more precious they become to us. Even if you've had a mom-daughter relationship that has been strained, or even contentious, our moms do shape the women we become. And even as the Holy Spirit transforms the women we are to be, we often depend on our moms to guide us, until they come to depend on us to guide them. (Enjoy this segment previously presented at the table a few months back.)  We've invited a woman named Kitty to the table to talk about her mom. Kitty Foth-Regner's mom passed away leaving Kitty devastated. You see Kitty's mom was a Christian woman who prayed that someday her daughter would stop rejecting Christ and come to know Him as her Lord and Savior.  Kitty hated God, but her mom kept praying and kept talking about Jesus. Kitty wrote about her journey in a book titled, "Heaven Without Her: A Desperate Daughter's Search for the Heart of Her Mother's Faith."
In Segment 2, pull up a chair for our Bible study in Esther with our Bible study teacher Beth Seifert.  Be sure to download the notes in our Bible study tab on the menu.
If you'd like to join the table and connect with us, check out our FaceBook page! You can also send us an email at Connect@Naomistable.com. And ladies, if you head over to our website, you'll find information on how to join women around the world at our Google+ Community Page, where we are making friends and talking about what the Bible has to say about the topics we cover here at the Table.
Podcast: Play in new window | Download (Duration: 53:33 — 21.5MB)