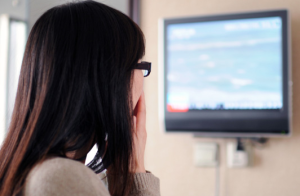 Watching our changing world and the stress of this fast-paced changing landscape is like trying to sip from a fire hydrant! The news keeps coming so fast. How do we navigate this minefield of stress? The Bible says that we are not to fear. Join us for this fascinating conversation with our guest today, Mary Danielsen. You can find her reports on the high-tech influences used by world governments to keep tabs on its citizens. She shares this on her The Things to Come blog.
In Segment 2, pull up a chair for our Bible study in 1 and 2 Peter with our Bible study teacher Connie Stampfl.  Be sure to download the notes in our Bible study tab on the menu.
If you'd like to join the table and connect with us, check out our FaceBook page! You can also send us an email at Connect@Naomistable.com. And ladies, if you head over to our website, you'll find information on how to join women around the world at our Google+ Community Page, where we are making friends and talking about what the Bible has to say about the topics we cover here at the Table.
Podcast: Play in new window | Download (Duration: 50:56 — 20.4MB)