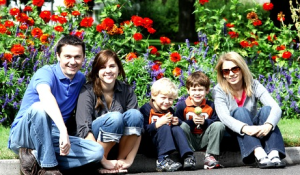 Sometimes we can learn a lot from our children when it comes to the Word of God. We hear from moms once in a while who feel guilty that their children know more about God's Word than they do, especially when these moms are new themselves to Christianity. Those wonderful Bible teachers in your church's children's department are a true blessing of course, but when our kids know more than we do it can be problematic. The answer: We need to be learning right along with them so that we can answer their questions and become biblically literate too!
In Segment 2, pull up a chair for our Bible study in 1 and 2 Peter with our Bible study teacher Connie Stampfl.  Be sure to download the notes in our Bible study tab on the menu.
If you'd like to join the table and connect with us, check out our FaceBook page! You can also send us an email at Connect@Naomistable.com. And ladies, if you head over to our website, you'll find information on how to join women around the world at our Google+ Community Page, where we are making friends and talking about what the Bible has to say about the topics we cover here at the Table.
Podcast: Play in new window | Download (Duration: 50:07 — 20.1MB)