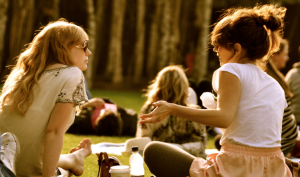 Women's ministry leader Susan Heck is joining us these next two days to talk about our high calling as women. Tomorrow we are talking about how she was able to memorize 24 books of the Bible!  Check out her ministry, With The Master, here!  Susan Heck has been involved in Women's Ministries for about 37 years, teaching Bible Studies, counseling, and heading up Ladies with the Master women's ministry at Grace Community Church in Tulsa, Oklahoma. She can also be heard weekly on the radio, Women With the Master, on Worldview Weekend. Susan is a certified counselor with the National Association of Nouthetic Counselors. (www.nanc.org), and the author of With the Master Bible study series for ladies, A Call to Discipleship, as well as Putting-Off Life Dominating Sin,  A Call to Scripture Memory and Assurance: Twenty Tests for God's Children.
In Segment 2, we're scooting up our chairs for our Bible study in I Samuel, with our Bible study teacher Beth Seifert. Be sure to download the notes in our Bible study tab on the menu. Tomorrow we will be introducing you to Samuel, a prophet whose life was incredibly significant!
If you'd like to join the table and connect with us, check out our FaceBook page! You can also send us an email at Connect@Naomistable.com. And ladies, if you head over to our website, you'll find information on how to join women around the world at our Google+ Community Page, where we are making friends and talking about what the Bible has to say about the topics we cover here at the Table.
Podcast: Play in new window | Download (Duration: 53:03 — 21.3MB)