What does your family do for Halloween? A growing number of Christian women say they no longer celebrate the event, because of its occultic feel. So how do you navigate Halloween with children – whether they're your own or the neighbors come trick-or-treating at your door? Be sure to join us for the discussion on Wednesday, October 30th!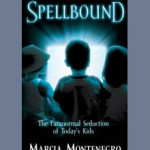 We've invited Marcia Montenegro to the table, and she's got some fascinating facts and research articles on Halloween that will give you some things to munch on…Marcia's ministry is called Christian Answers For The New Age (CANA).  Marcia's new e-book, Spellbound: The Paranormal Seduction of Today's Kids will be available in a few days.
In our second segment, we do our daily Bible study, and our teacher Connie Stampfl will be at the table with Lesson 2 in the Gospel of Mark. We are recording these studies into separate 10-minute podcasts with notes that you can download to lead your own Women's Bible studies.
If you'd like to join the table and connect with us, email us at Connect@Naomistable.com.  You can also reach us via Twitter and our FaceBook page! If you are feeling isolated or just want to meet others who are on this journey, why not check out our Google+ Community Page, where women from around the world meet to discuss Bible topics. (Sorry guys, that community is ladies only!)
Related articles
Podcast: Play in new window | Download (Duration: 56:16 — 22.5MB)