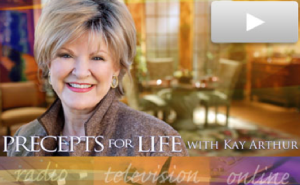 We've received many questions about solid, biblical teachers and whom we would recommend. Sometimes we can give a green light, but sadly, there are many times when we cannot in good consciousness  recommend a well-known author or teacher.
Recently several women have inquired about Bible teacher Kay Author, whose Precept studies have been very popular.  First off, Kay Arthur is someone who has always been orthodox and sound from as far as I had known. I had no reason to have her on my "radar" so to speak.  So in posting this, I want to clarify that it's not necessarily anything that Kay is saying or has said that warrants this caution, but rather, "who" and "how" she is operating in ministry.
Let me also convey that its with a heavy heart that this information came together. I don't like having to bring this stance on her, but feel it is necessary for the continual equipping of the ladies here in practicing good discernment.
I have spoken with trusted pastors, visited credible sites, and tried to do due diligence in coming to a position on recommending Kay Arthur. The moderators are in agreement on this as well.
Here are the concerns that we have about recommending Kay:
She teaches men
She directly partners with Beth Moore and Priscilla Shirer.
She uses materials from Stephen Furtick and other troubling sources in the curriculum in the various ministries that she controls.
Some positive news on this last point, as reported by Erin Benziger of Equipping Eve and Do Not Be Surprised ministries:
"Regarding the Steven Furtick information, I actually was involved with discovering the use of Furtick's materials at the website of Transform Student Ministries (TSM) See this source.  I am pleased to note, however, that upon it being brought to their attention, the blog post that was in question and that utilized Furtick's material was taken down from the website of TSM. You can find the background regarding that episode here: 
Nevertheless, the other concerns with Arthur remain. We do well to proceed with caution.
As for those other concerns: We know from Scripture that 1 Timothy 2:12 tells us women are not to be teaching men.
We have covered our concerns with Beth And Priscilla, and the contrary or additional teachings to Scripture that they perpetuate. Using material such as Furtick's "Sun Stands Still" book is not something I would ever think Kay would promote. However, all of these concerns are so significant, they cannot be overlooked.
Therefore, due to those reasons, I cannot in good conscience recommend her materials at this point to women. There are enough concerns that it would not be wise to fully endorse her or promote her materials.
I have spoken with Phil Johnson, The Director of Grace To You, and he has said the following:
I'm not a fan of [Kay Arthur]. In her early years she derived a lot of material from John MacArthur, but the more she moves away from expository teaching into experience-centered content, the more superficial (and sometimes eyebrow-raising) her teaching has become. She has delved into stuff from Neil Anderson (whose teaching on spiritual warfare is deplorable and destructive); she recently made some kind of overture to Furtick;  and she seems to have little compunction about whom she ministers alongside. More significantly, as she gained popularity a decade or more ago, she began unapologetically teaching mixed audiences. I don't think she is a damnable heretic, and I don't expect her to stray as far into mysticism as Beth Moore, but she doesn't seem to be solidly anchored, and I'm troubled by her blithe willingness to ignore the principle of 1 Timothy 2:11-12.

I would never endorse her.
-Phil Johnson
In addition, I have spoken with other trusted pastors and solid teachers who have raised the same concerns and have come to the conclusion that they cannot endorse.
We want to continue to be a place of discernment for ladies to come to and know that we are doing the best we can when concerns arise. Again, please note that this is not saying that Kay is a false teacher or anything of the sort. We are just concerned with the direction she has taken in these areas. Enough of a concern that at this point in her ministry, we can't promote her as a resource that we want to endorse whole-heartedly. I hope that clarifies some of the questions and concerns we were getting on her and pray that you understand the saddened heart to which this post was written.
As the Apostle John reminded us,
Do not judge by appearances, but judge with right judgment."
John 7:24
Paul reminds us,
And it is my prayer that your love may abound more and more, with knowledge and all discernment, so that you may approve what is excellent, and so be pure and blameless for the day of Christ
Philippians 1:9-10
But test everything; hold fast what is good.
1 Thessalonians 5:21
Additional materials:
Women Teachers? Kay Arthur, Beth Moore, and Priscilla Shirer Believe In Teaching Men Too
The Bomb Was Bound To Burst About Kay Arthur From Precept Ministries International