Where is Naomi's Table? Is it a real table? What is it?
Naomi's Table is a ministry just for women. We are complementarian, and believe that 1 Timothy 2:12 is clear about women not teaching or having spiritual authority over men. 
Why "Naomi?"
The Bible says in Titus 2:3-5 that older women are to teach younger women about the beautiful truths of our faith. It's not about age, but about experience and maturity. In the Book of Ruth, Naomi was the older "mom," but suffered such bitter losses that she herself needed grace and nurturing from the younger Ruth. It was Ruth's faithfulness and obedience that lead her to glean not only food for the two of them, but those precious kernels of truth that lead her to relationship with her kinsman redeemer. What an incredible testimony! It paints a beautiful picture of our Kinsman Redeemer, Jesus. That's the idea behind Naomi's Table. We want "seasoned women" to point those young in the faith to Christ.
What happens at the table?
We learn together at the feet of our magnificent Savior, Jesus Christ. We study His Word and learn about the often confusing roles the world tells us we need to take on, and compare those pressures with what the Bible says about Godly women and discipleship.
In this unique ministry we have something incredibly precious: a real connection with each other is happening in our interactive Naomi's Table community on Google+, a very private group that can allow us to have live events – we can even watch a video together or have some teaching time during monthly meetups.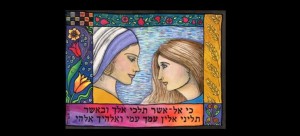 If you don't have those relationships with other women right now, or are disconnected or isolated from other Christian women, you are not alone.

 We had those close relationships in a bygone era, but we've lost it. We've moved away from those close circles. Some of you remember when we used to hang out at the table and connect with our grandmas, aunts, mom, maybe a sister or two, and the neighbor ladies down the street. Most women don't have that anymore. We're too busy, and frankly, we just don't have the energy any more. Naomi's Table can't replace those seasoned women who once shared their wisdom with us, but we can be that place for spiritual encouragement and equipping. Here we can go deeper than we can with most of our friends, and share those gleanings just like Naomi and Ruth did long ago.
Learn more about joining our G+ Group